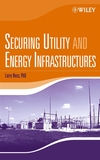 Securing Utility and Energy Infrastructures
Larry Ness, Ph.D.
ISBN: 0-471-70525-X
Hardcover
360 pages
June 2006

Click here for Free Chapter
In PDF Format

Click here to send Ness Group International to a colleague
WELCOME

Ness Group International is a Dallas, TX based licensed & insured (Texas Department of Public Safety, Private Security Bureau, License # C11213) Investigations/Security, Contractor/Security, Consulting Company with a focus on the Utility and Energy industry, but with significant experience in the following environments.
Defense

Technology

Pharmaceutical/Healthcare

Biotec

Construction

Alternative Energy

Financial

Our staff expertise in Enterprise Risk Management, Business Continuity/Disaster Recovery and Security Vulnerability Assessment (Penetration Testing) along with computer forensic investigation capabilities identifies Ness Group as your premier security and risk management business solution.

Ness Group's research division will provide your existing enterprises with research data and entrepreneurs with in-depth feasibility studies, proposals / business plans for the Utility and Alternative Energy Industries.
A Feasibility Study assesses the details of how you will deliver a product or service (i.e., materials, labor, transportation, where your business will be located, technology needed, etc.). Think of the feasibility study as the logistical or tactical plan of how your business will produce, store, deliver, and track its products or services.
In addition, a feasibility study is an excellent tool for troubleshooting and long-term planning. In some regards it serves as a flow chart of how your products and services evolve and move through your business to physically reach your market.
Along with its extensive security consultancy and private investigative services, Ness Group has Personal Protection Officer (PPO) services. Ashley K. Ness, a Licensed Private Investigator, Security Consultant, Commissioned Security Officer, and Personal Protection Officer (PPO).
Ashley specializes in Criminal Background Checks, Due Diligence Checks, and provides Private Protection Services to High Profile Executives.